GEORGE ROBERTSON HOUSE, c. 1846

1 MEETING STREET & 3 MEETING STREET
Sources & More Information:
Poston, Jonathan, for Historic Charleston Foundation. The Buildings of Charleston. Columbia, S.C.: South Carolina Press, 1997.
Handal, Leigh and Katherine Saunders, eds. City of Charleston Tour Guide Training Manual, 2011.
Archives of Historic Charleston Foundation.
The first residence to occupy the western lot at the southern foot of Meeting Street was built in the late 18th century by Sen. Ralph Izard (1741-1804). For its design, Izard engaged James Hoban, generally believed to be the architect of America's first White House which was burned in the War of 1812. Unfortunately, Izard's house here burned as well a few years later.
Cotton factor George Robertson, a Scotsman with offices on Fitzsimons Wharf, then built this grand three-story antebellum house on a high basement in the Italianate style popular in Charleston during the 1840s and '50s using locally made Charleston grey brick laid in the Flemish bond style (though subsequent repairs made after the Earthquake of 1886 did not always maintain this style). A side-hall version of the Charleston single house design boasting 12,000 square feet, it remains among the largest residences in the city's Old & Historic District and commands one of the most desirable views in Charleston, overlooking White Point Gardens and the harbor beyond.
With 11,820 square feet, the house has eight bedrooms and six full baths and two half-baths.
Its primary entrance on Meeting Street features a pair of striking double doors. Though the door frames are original, the glazed glass panels and cast-iron lanterns on either side are later additions. These doors open to an entrance hall on the property's northern wall, notable for its massive proportions. A wide, sweeping staircase rises 22 steps to the second floor. The balustrade curves at its base to form a bold S-scrolled newel. Both the staircase and floor are original heart pine, found in abundance in the Lowcountry.
Another notable addition is the house's extended two-story bay, which over time began pulling away from the primary structure and required extensive repairs. Its southern-facing piazzas are masked in brick on their eastern side on all three floors, creating a very balanced appearance from Meeting Street.
South of the hall a pair of palatial rooms are joined en suite by a wide, arched opening and feature tall, wide windows that provide access to the piazza. The rooms' original interior fabric has been retained, including huge marble mantles in the arched Italianate style; wide moldings, cornices and baseboards; and ornate ceiling medallions indicative of the wealth generated by those involved in the cotton industry.
Robertson sold the house to Williams Middleton (1809-1883) in 1855 for $25,000. The Middletons lived here full time after their Middleton Place plantation house burned near the end of the Civil War.
In 1870, the Middletons sold the house to the Ross family, wealthy Philadelphia merchants and shipowners, whose magnificent collection of Victorian-era art and antiques were displayed here. When the last family member, Mary Jane Ross, passed away in 1922 at age 90, her will stipulated that the house was to become a museum featuring their collections in honor of her brothers who had served during the Civil War. That directive initiated a court battle that lasted 22 years and went before the S.C. Supreme Court three times before it was finally determined that the house and its collections were to be auctioned in 1944, with proceeds benefitting the South Carolina Medical Society and the Charleston Library Society, among other charitable organizations in both Charleston and Philadelphia.
The mansion was then purchased for $35,000 in 1945 by Minnie S. Carr, who also owned the property at 2 Meeting Street. Mrs. Carr converted the house into apartments while very carefully preserving and protecting its ornamentation and architectural elements.
Dr. John and Nancy (nee Dinwiddie) Hawk purchased the house from the Carrs in 1961. Dr. Hawk was a local surgeon and Mrs. Hawk was widely known a woman of "purpose and drive," according to her 2008 obituary in the Post and Courier. She was a leader in politics, preservation and law, as well as having been named the United States Mother of the Year. After her nine children were grown, she enrolled at the College of Charleston and then commuted to Columbia to earn a law degree at the University of South Carolina. She opened her law practice on Broad Street at a time when female lawyers were still a rarity. Among her many passionate causes were effort to preserve Snee Farm, restore the Charleston County Courthouse at the Four Corners of Law, build the city's new judicial center downtown, and organizing the Charlestowne Neighborhood Association. During the family's 47 years of residency, Dr. and Mrs. Hawk raised nine children here, and later entertained an additional 21 grandchildren during Sunday dinners and holidays.
The house's basement served for several years as the home of "Miss Mason's School," an elementary day school that later became Mason Preparatory School, which still exists today.
Following Mrs. Hawk's death, the property's sale generated local controversy when there was a request to divide it into three condominiums, with the kitchen house at 3 Meeting Street serving as a fourth. After a heated debate among preservationists, the request was allowed and its sale closed Sept. 2, 2015, for $4.2 million to William and Frederike Hecht, who proceeded with the condo renovation while being sensitive to preserving the house's historic interior fabric. The kitchen house sold for $795,000 in 1998 and in 2021 has an estimated value of $2,165,200.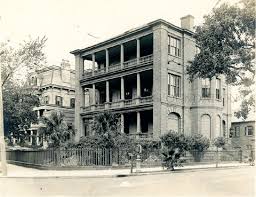 Source: Historic Charleston Foundation, c. 1920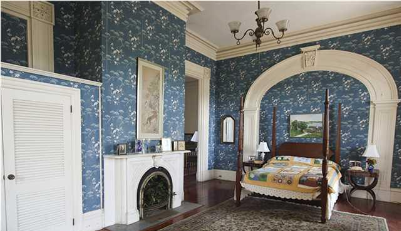 The first-floor east parlor (above) and second-floor bedroom, both of which maintain much of their historic interior fabric, including the mantels.
The depency of the George Robertson House at 3 Meeting Street is now a single-family residence.