CATHEDRAL OF ST. JOHN THE BAPTIST
Colonial Charles Town welcomed settlers of diverse faiths, with the exception of Roman Catholics, as Catholics were suspected of being aligned with the Spanish in St. Augustine, Florida, a constant thorn in the side of colonial Carolinians. Once the Spanish were no longer a threat after the American Revolution, attitudes toward Catholics eased up, and Charleston's first documented public mass was celebrated in the late 1780s.
By 1800, St. Mary's, the Mother Church of Catholicism in the Carolinas and Georgia, had been established in an abandoned Methodist building on Hasell Street, across the street from Kahal Kadosh Beth Elohim synagogue. The Hibernian Society, an Irish benevolent organization, was established in 1801 and welcomed a great influx of immigrants, both Catholic and Protestant, in the 1820s and '30s.
Within a year of his arrival, Charleston's first Catholic Bishop, John England (served 1820-1842), purchased a lot on the corner of Broad and Friend (now Legare) streets that had been the site of a popular garden known as "New Vauxhall," and began to raise money for a cathedral. Upon England's death, his successor, Bishop Ignatius A. Reynolds, completed the campaign.
Construction began in 1852 on an ornate Gothic cathedral made of Connecticut sandstone, though architect Patrick Keely's initial estimate of $41,000 fell far short of its final price tag of $103,600. Bishop Reynolds consecrated the new church in the names of St. John and St. Finbar in April 1854, less than a year before his death.
Just seven years later, the new cathedral was destroyed in the Great Fire of 1861. As if to add insult to injury, the ruined, but still standing, steeple crumbled in the Great Earthquake of 1886. For nearly three decades after the fire, the ruins remained abandoned.
In 1890, Keely undertook the rebuilding of a new cathedral, which he completed in 1907. Designed much like its predecessor, it too was made from Connecticut brownstone in the Gothic style. Yet funds ran out this time as well, and Keely never completed the steeple. His drawings for it eventually were lost.
After more than a century, Charleston architect Glenn Keyes completed the missing spire that was not only in keeping with the cathedral's historic character, but also met modern building codes requiring it to withstand 135 mile-per-hour hurricane winds. In 2010, the renamed Cathedral of St. John the Baptist, complete with its inspirational 85-foot high spire, was finally finished.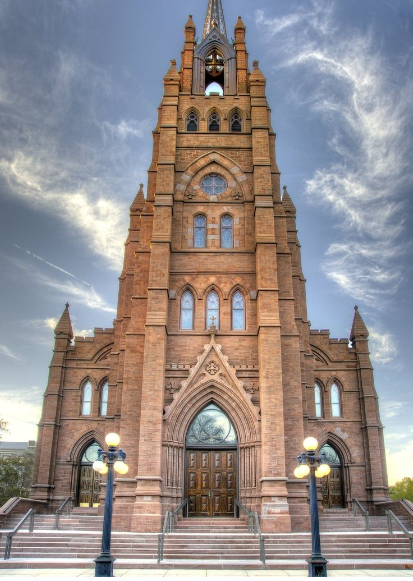 The Cathedral of St. John the Baptist as it appears today, with its completed steeple. (Photo: Pintrest)
The Cathedral as it looked from 1907 - 2010, before its steeple was completed. (Photo: Trip Advisor)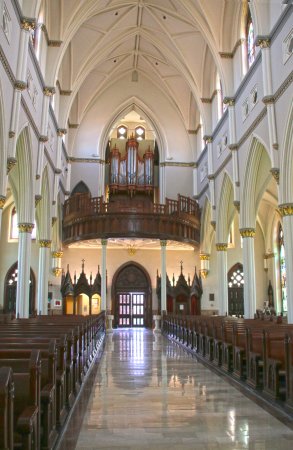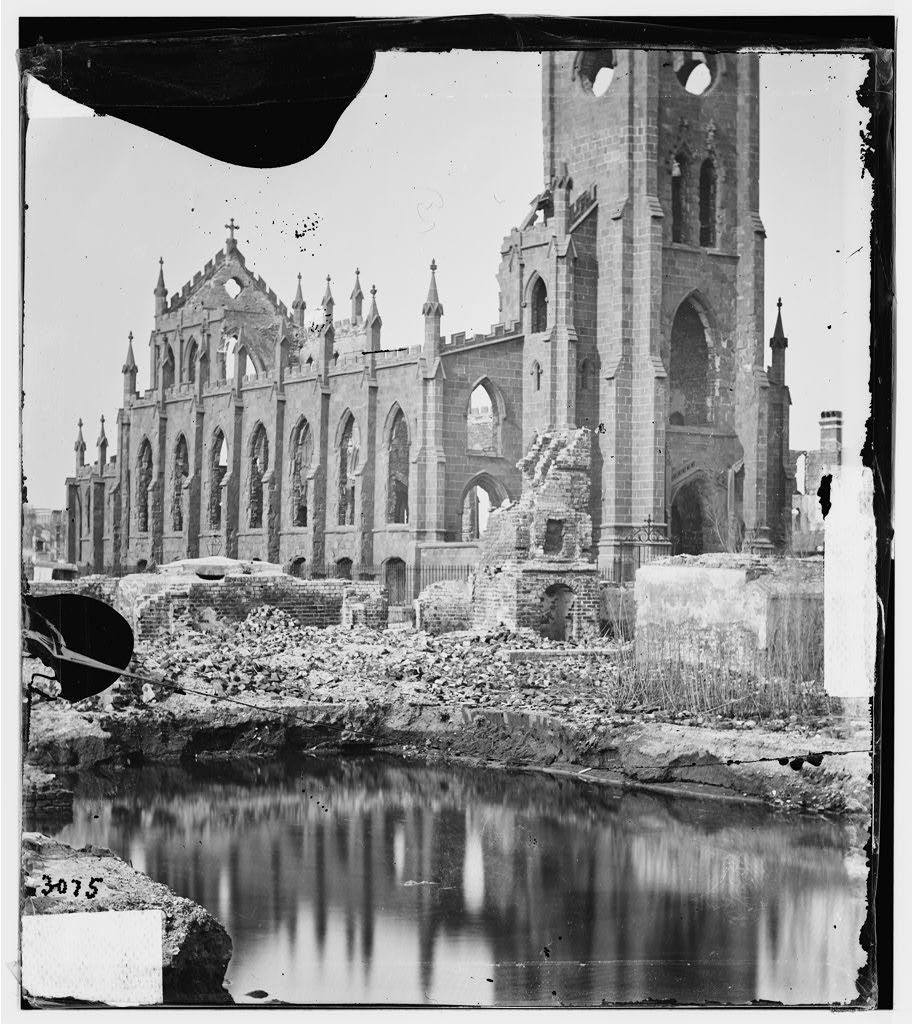 Above: The Cathedral as it looked from 1907 - 2010, before its steeple was completed. (Photo: Trip Advisor) At left and below, the Cathedral as it looked in 1865, four years after the Great Fire of 1861. (Photos: Library of Congress)