A DAY ON THE COOPER RIVER
The Cooper River and its tributaries provided the means for Carolina to become an international hub for the cultivation and exportation of naval stores, pelts, rice, indigo, and sea island cotton, commodities upon which the New World's wealthiest plantation system developed.
Today more than 30,000 acres comprise the Cooper River Historic District, where those who peek just beyond the tree lines edging its highways can find some of the most beautiful places in the Lowcountry. A few hours in this historic watershed and you'll understand why the National Register of Historic Places calls it a "remarkably intact historic and cultural landscape" incorporating essential elements of life in the 18th and 19th centuries.
In designing your idea day exploring the Cooper River watershed, you may select to visit any combination of the sites with images and brief descriptions:
* St. James Goose Creek Chapel of Ease Historic Site
* Biggin Church ruins
* Mepkin Plantation/Luce Gardens/Laurens Cemetery
* Taveaux Church
* Lost village of Childsbury/Strawberry Chapel
* Coming Tee ruins/Old Rice Mill ruins
Photos and brief descriptions of each site follow.
A grand oak allee leads into Mepkin Plantation, country seat of American Revolutionary hero and ambassador Henry Laurens, who negotiated the Treaty of Paris, ending the American Revolution. Perect picnic site!

Deep within the woods surrounding Mepkin Abbey is a quiet, hidden African-American cemetery. Placing a homemade shell rosary on the tombstone, family members continue to honor the life of Mariah Richardson, who was born into slavery, lived through the Civil War and emancipation, and passed her story on to the 20th century. (Wooded road is sometimes impasable following bad weather, however the site is always accessible by foot, an easy 0.8-mile hike.)

Biggin Church served the largest colonial parish established by the Church Act of 1706. The first church on this site burned in a forest fire in 1755. The second was damaged by the British, who burned it a second time as they retreated. It was plundered by Federal troops in the Civil War before burning a third and final time. Still used today, the graveyard contains an eclectic group of headstones dating from the days when some of Charles Town's most affluent colonists worshipped here.
The fine brickwork of Coming Tee Plantation remains evident today, despite centuries of wars, hurricanes and fires. Coming Tee was originally the homesite of John and Affra Coming, who were among the first permanent settlers to arrive in Charles Towne in 1670,
American Patriot John Readhimer was an honorable businessman and proprietor of a tavern near where his remains rest today in the St. James Goose Creek Chapel graveyard. Site of the deciding battle of the Yemassee War in 1715, this sacred ground is the final resting place for families of the black, white, Native American, Patriot, Loyalist, Confederate and Federal troops who fought, died, and were buried where they fell. (Private property, access by permission only.)
The lost village of Childsbury, c. 1720, was one of colonial Charles Town's first frontier outposts. Today all that remain are archeological remnants and Strawberry Chapel, a convenient site of worship for plantation families who found the 10-mile trip to Biggin Parish Church arduous, (While the Childsbury site is open, Strawerry Chapel is accessible only with permission.)
Built in 1835 on Clermont Plantation, Taveau Church was distinguished from its rural ecclesiastical peers for its sophisticated architecture. It was built by Mrs. John Ball, a Presbyterian bride from Edisto Island who felt a bit too "surrounded" by the many Episcopalian churches in the area. (Private property, accessible only with permission.)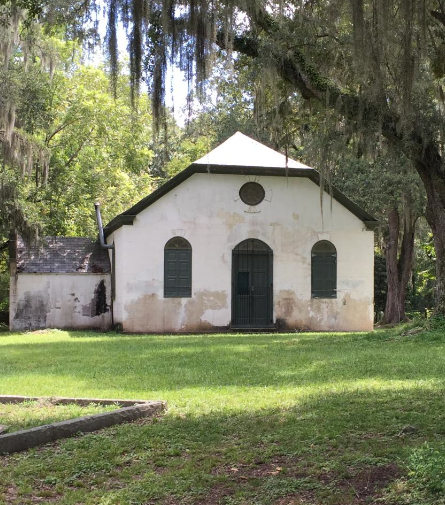 Price
Cost of tours vary, depending on what you would like to see and do. Generally, however, a Day on the Cooper River is:
* $100 per person for three or more guests
* $125 per person for two guests
* $250 for one guest
Add a scenic Lowcountry picnic - $15 per person
These costs include pick-up and return, all transportation, beverages and snacks.