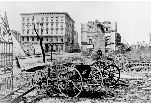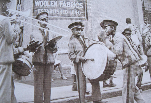 Charleston's history has been shaped by periods of great prosperity and sumptuous lifestyles, each of which has then been followed by catastrophic disasters both natural and man-made: bombard-ments and occupations by two invading armies, dozens of hurricanes, sweeping epidemics, the largest earthquake ever recorded on the East Coast, and great conflagrations that destroyed entire neighborhoods. On our Lost Charleston tours we explore some of those cherished places, people and traditions that these disasters, along with time, progress and changing fashions, have relegated to history.
These tours have been designed to complement Leigh's first book, Lost Charleston. Autographed copies of the book are available for those who wish to purchased one or you are welcome to bring your own copy if you choose.
Price
A two-hour private tour for one or two people is $125; additional guests add $40 per person. Additional hours, add $50 per hour. Copies of the book are available for $25 for those who wish to buy a copy.