ST. ANDREWS HALL, 1815 - 1861
118 Broad Street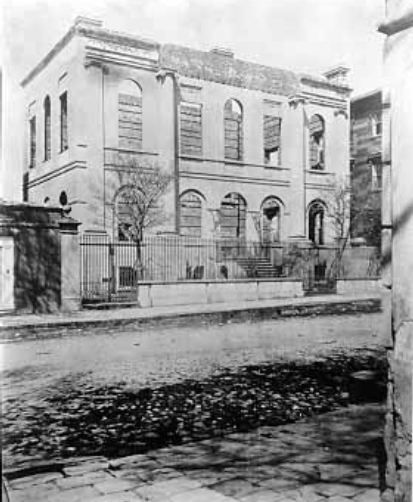 This essay is adapted from Lost Charleston.
A visit to the site of St. Andrews Hall is included on our Lost Charleston tours.
Benevolent societies played an important role in colonial Charles Town, welcoming emigrating countrymen and helping them get established in their new lives and businesses. One of the oldest of these groups is the St. Andrew's Society, with Charleston's chapter having been founded in 1729. Named for the patron saint of their homeland, most of its members were of Scottish descent; however membership was not restricted to Scots and included many of the colony's wealthiest planters, leading political figures, and elite professionals of diverse heritages.
The society completed the construction of its grand hall in 1815, built in the Adamesque style at 118 Broad Street, to accommodate its meetings and functions. Here some of Charleston's grandest antebellum balls were held, as were concerts sponsored by the St. Cecilia Society and meetings of the prestigious South Carolina Jockey Club. Overnight accommodations were available for gentlemen of standing, and its rooms housed such notables as the Marquis de Lafayette and President James Monroe.
Yet St. Andrew's Hall is most often remembered as the place where South Carolina's delegates, at a specially called state convention, met to draft the Ordinance of Secession on December 20, 1860. The delegation had met in Columbia several days earlier, but an outbreak of smallpox in the capital city caused the group to reconvene in Charleston. At St. Andrew's Hall, delegates drafted and unanimously voted to approve the ordinance, then headed over to South Carolina Institute Hall later that evening where a boisterous mob had gathered, clamoring for the secession. There delegates signed the document amid great public fanfare and celebration.
The mood in Charleston was quite different a year later when, on December 11, 1861, the largest fire the city had ever witnessed destroyed nearly everything from the corner of Hasell and East Bay streets, through Ansonborough, down Meeting Street, and westward along Broad Street. Though its neighbor to the east, the John Rutledge Mansion, miraculously escaped destruction, neither St. Andrew's Hall nor its western neighbor, the Cathedral of St. John and St. Finbar, were so lucky. Soon after, members of the South Carolina Society invited St. Andrew's to meet monthly in their hall, which they've continued to do ever since.
St. Andrew's empty shell stood abandoned for the duration of the Civil War and was later demolished without commemoration or ceremony. The fence that surrounded the property remains, bearing a marker recalling the important role this site played in American history.
The burned out shell of St. Andrews Society Hall were demolished shortly after the Civil War with any ceremony or fanfair.