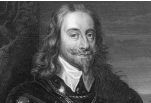 CHARLESTON'S EARLIEST DAYS
1526 - 1699
1526
Aug. 24 -- Spanish explorer Lucas de Ayllon visited the area around Cape Romain, naming the area Cape San Romano, as this date is St. Romano's Day. (Source: Home in the Village, p. 4)
1649
Jan. 20 -- King Charles I of England went on trial, accused by Oliver Cromwell and the Puritan forces who emerged victorious from this mid-17th century civil war of high treason. His subsequent conviction
and execution was one of the key factors in what eventually would become the first permanent English settlement of Charles Town some 30 years later.
Jan. 30 -- Charles I is beheaded as Oliver Cromwell and his Puritan Party assume rule over England.
1662
Jan. 30 -- On the 12th anniversary of his father's execution, Charles II, recently restored to the British throne, disinterrs the body of Oliver Cromwell and cuts off what's left of Cromwell's head.
1666
May 5 -- Thomas Pinckney, future husband of Ruth Brewton and father of Col. Charles Pinckney, was born.
1681
Nov. 23 -- Lord Proprietor Anthony Ashley Cooper was tried and found guilty of treason in Britain.
1694
Aug. 20 -- In his will written on this date, Capt. John Coming leaves his entire estate to his widow, Affra Harleston Coming. The ruins of one of the nation's oldest plantations, Coming Tee, and its rice mill can be seen on our Day on the Cooper River Tour. (Photo credit: Charleston Raconteurs)
1695
Aug. 17 -- John Archdale, a Quaker, was appointed Governor of the Carolina colony.
1698
Feb. 24 -- A fire broke out and spread quickly thoughout the town over the next two days, leaving more than 50 families homeless.
Dec. 10 -- Affra Harleston Coming deeds 17 acres of land south of George Street to St. Philips Church. It is known as the Glebe Lands, or lands belonging to the church.
Dec. 28 -- Affra Harleston Coming divides the remainder of her estate between her nephew, John Harleston, and her husband's half-nephew, Elias Ball.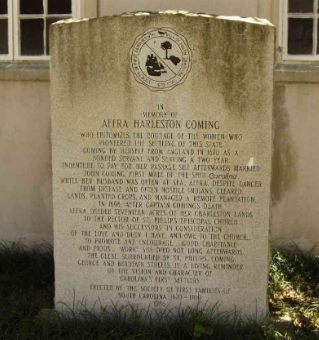 Charles I (19 November 1600 – 30 January 1649) was King of England, King of Scotland, and King of Ireland from 27 March 1625 until his execution in 1649.