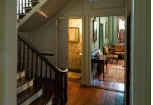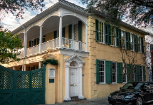 July 1
1864 -- The Union Army exploded a massive charge of dynamite placed in a tunnel that went under the Confederate lines at Petersburg, Va., killing a large contingent of South Carolina's 24th Regiment. John Marion Lofton, serving with the 23rd Regiment, was among the four Confederate units who responded to the blast, successfully staving off an attempt by 14 Union units to charge through the crater created by the blast. (Source: Home in the Village, p. 78)
July 2
1756 -- News reached Charles Town that England had declared war on France. Royal Gov. Lyttelton received the Assembly's support in raising funds for the war effort by raising taxes on run, bread and flour. Wealthy legislators, however, stopped short of further taxing real and chattel property.
July 4
1759 -- A committee of the Charles Town Library Society began considering if the money they had raised so far, including pledges, was enough to "encourage one or more Professors of the different branches of learning to settle among them" for the purpose of beginning today's College of Charleston. (Source: A History of the College of Charleston, p. 6)
1906 -- David Doar, one of the last Lowcountry rice planters, was the keynote speaker for the Agricultural Society of St. James Santee, on the occasion of the 200th anniversary of the parish. (Source: Home in the Village, p. 13)
July 7
1764 -- Joseph Brown Ladd was born near Newport, R.I.
July 12
1858 -- The Charleston Courier reported that "James Kennedy ... convicted of stealing a gold watch valued at $100 ... sentenced to be imprisoned one week, and then to receive upon the bare back, in the Jail yard, twenty stripes; afterwards to be imprisoned one week, and then discharged." (Source: Abode of Misery, p. 12)
July 17
1954 -- The News & Courier ran an article describing the slow decline of Charleston's famed Mosquito Fleet.
July 18
1863 -- 650 members of the all-black (except for Col. Robert Gould Shaw) 54th Massachusetts Regiment attacked Battery Wagner on Morris Island in one of the bloodiest battles of the Civil War.
July 22
1769 -- The colonial Assembly appointed a Committee of Thirty-Nine, which included an equal number of merchants, planters and artisans, thus for the first time granting the laboring classes a significant voice in the colony's government. (Source: Walter J. Fraser Jr. in Charleston, Charleston!, p.125)
July 25
1770 -- Benjamin Smith, former Speaker of the Comons House of Assembly and Vice President of the Charleston Library Society, who realized his death was imminent, added a codicil to his will leaving his trustees 500 pounds sterling "to be by them applied to the erection of the college whenever they see the good work brought to effect." (Source: A History of the College of Charleston, p. 12-13)
July 29
1688 -- Stede Bonnet, Charleston's Gentleman Pirate, was christened at Christ Church Parish in Barbados.
July 30
1937 -- The Rev. Daniel Jenkins died.
We pass by the former site of Lyttleton's Bastion, now developed as 17, 19 and 21 East Battery, on our Charleston Overview Tour. (Photo credit: Library of Congress.)