When designing Charles Town's "Grande Modell," English philosopher John Locke borrowed an urban planning concept from Rome: a public space where a group of civic buildings built closely together creates a community hub. For almost 350 years, Charleston's civic, banking and commercial activities have been centered along Broad Street, the city's urban core.
Records from 1698 to 1714 refer to the corridor as both Broad Street and Cooper Street – the latter honoring one of Charles Town's Lords Proprietors and John Locke's patron, Lord Anthony Ashley Cooper – but eventually Broad Street prevailed, stretching from Half Moon Battery at its eastern terminus to originally end at the beef market (now City Hall) where it met Meeting Street on the west. Throughout most of the 18th century, this portion of Broad Street was occupied by craftsmen and merchants. By 1771, the Exchange and Provost Dungeon had been built over Half Moon Battery and the city's original defensive wall.
From King Street east, Broad Street remains the site of Charleston's principal civic buildings including City Hall, Charleston County Courthouse (former S.C. Statehouse), U.S. Post Office and Federal Courthouse, and St. Michael's Church. Preservationists who sought to restore the county courthouse at its historic location after it was heavily damaged in Hurricane Hugo (1989) founded their arguments upon the fact that dozens of offices along and near Broad Street were predicated upon the judiciary function remaining at the city's center. If the court moved to a more central location off Interstate 26 with abundant surface parking, as some argued, so would its dependent professional offices. Thus the city would lose the critical professional office buffer between the commercial retail district to its north and historic residential district to its south.
Many of the buildings along Broad Street are excellent examples of adaptive reuse, changing and evolving over the years, yet retaining their historic integrity. These include real estate offices, restaurants and art galleries. Despite hurricanes, the strongest earthquake east of the Mississippi River, two wars, and economic downturns, Broad Street has preserved much of its 18th and 19th century architecture and character. The American Planning Association has named it one of "great American streets."
See also:
- Guard House, destroyed 1886
- U.S. Post Office, 83 Broad Street
- St. Andrews Hall, destroyed Dec. 11, 1861
- Cathedral of St. John the Baptist (formerly Cathedral of St. John & St. Finbar)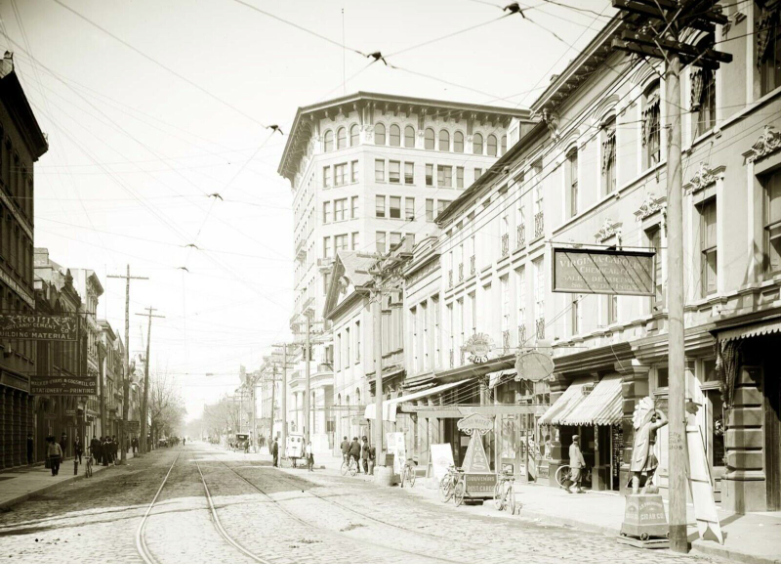 Broad Street looking west from its eastern terminus at the Old Exchange Building. (Image: Library of Congress, between 1900 and 1920)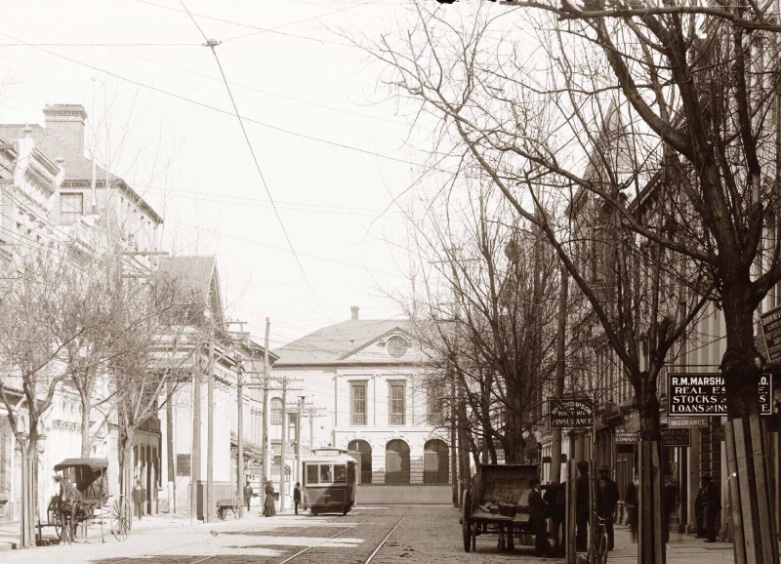 Broad Street, looking east toward the Old Exchange Building (Photo credit: Library of Congress, 1906)
The Charleston Guard House, destroyed in the Earthquake of 1886 (Photo credit: Georgetown County Library, public domain)
Broad Street can be seen as the central east/west corridor of this early 18th century map of Charleston with an overlay of the original Walled City.