THE HENRY LAURENS HOUSE
320 East Bay Street
Built before 1765; demolished 1914
Merchant Henry Laurens made his fortune exporting rice, indigo, naval stores and deerskins, while importing wine, rum, sugar and slaves. Along with his business partners, he became the largest importer of enslaved Africans in North America, making him one of the wealthiest men in the colonies.
Like every young male Charlestonian, Laurens aspired to the elite planter class, eventually acquiring four plantations. In addition he built a grand town house with a magnificent garden at the southeast intersection of East Bay and Laurens streets. In her 1921 book Historic Houses of South Carolina, Harriett Leiding notes the house featured "colonial carvings, marble mantels, set-in book cases, thick walls, secret doors and, on the upper floor, a wonderful ballroom."
As colonial rebellion grew, Laurens initially hoped for a peaceful solution that would avoid a break with England. Perhaps because of his initial equivocation, an angry mob gathered at his house on October 23 to protest the hated Stamp Act of 1765, a tax that required the purchase of stamps for documents ranging from newspapers to court records, mortgages and playing cards. Rumor spread that Laurens was hiding the stamps. Though he prevented protesters from entering his house, where his wife was recuperating from a serious illness, the mob thoroughly ransacked the property's dependent buildings. Though they found no stamps, they did find enough good wine to keep the protest a rowdy one as they moved on to search the residence of the colony's Chief Justice.
As the split between the colonies and England grew, Laurens pledged his support to the Patriots, succeeding John Hancock as President of the Continental Congress. On a mission to secure funding for the war from the Dutch in 1780, Laurens was captured at sea by the British, becoming the only American ever to be imprisoned in the fabled Tower of London. He was later released in a prisoner exchange for Gen. Charles (Lord) Cornwallis and, along with Benjamin Franklin, John Adams and John Jay, helped develop a truce with Britain.
Laurens returned to Charleston a broken man after the war and the death of his beloved son John in its final days. He spent his remaining years in relative solitude at his Mepkin Plantation. In 1914, the grand house at 320 East Bay Street was torn down to accommodate a railroad spur that was abandoned before it was ever finished.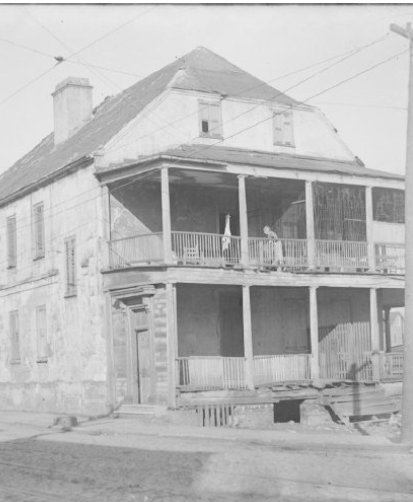 The Henry Laurens House was demolished in 1914 to make way for a railroad spur. It was never built. After sitting vacant for years, a developer has begun building on it in 2021. We visit the site on our Lost Charleston Tour. (Image: Library of Congress)
Last Wishes
Though no reliable documentation exists, it is said that upon her death, the body of Laurens' young sister lay in repose upstairs in the "wonderful ballroom" described by Leiding. As she lay with her face turned toward the garden, a storm blew up and rain from the open window splashed upon her face. A servant saw her eyelids flutter and called for help. The little girl recovered and lived to old age.
Whether or not the story is true, Laurens did fear being buried alive. In his will, he directed his son "as an indispensable duty that as soon as he conveniently can, after my decease, he cause my body to be wrapped in 12 yards of Tow Cloth and burnt until it be entirely and totally consumed and then collect my bones, deposit them wherever he shall think proper."
His family was hesitant to comply with this unorthodox, and perhaps even "un-Christian," request. Thus, when he died, Laurens' slaves gathered around his iron coffin on Mepkin Bluff overlooking the Cooper River and complied with his request, the earliest documented cremation in America. His ashes were interred in the family cemetery at Mepkin.