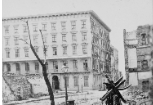 October 1
1768 -- In preparation for the upcoming Assembly elections, Charles Town's mechanics nominated candidates who opposed the Quartering Act, Stamp Act, and Sugar Act. Led by Patriot Christopher Gadsden, they met at the Liberty Tree "where many loyal, patriotic and constitutional toasts were drank." The company then marched on to Dillon's Tavern to continue the celebration.
October 5
1780 -- Captured at sea by the British, Henry Laurens earned the unique distinction as the only American to ever be held prisoner in the Tower of London, following his arrest for high treason.
October 6
1839 -- Susan M. Breaker died and was buried at the Bethlehem Baptist Church, where she had been an active member for 40 years.
October 7
1935 -- Porgy & Bess, an opera by George Gershwin based on the novel Porgy by DuBose Heyward, opened on Broadway. Interpreting the lives of African-American tenants who lived on a fictional "Catfish Row," including members famed Mosquito Fleet, the play ran for 124 performances.
October 9
1970 -- Having succumbed to termite damage and carefully demolished, the new Mills House Hotel, having been rebuilt as closely as possible to the original and using as much salvaged building materials as possible, reopened to the public.
October 12
1786 -- Ralph Isaacs published a letter in the Charleston Morning News and Daily Advertiser besmirching Joseph Brown Ladd's character and declaring him to be a scoundrel, social climber, and quack.
October 13
1931 -- City Council created America's first historical zoning ordinance, protecting its 18th century core from demolitions and establishing the city Board of Architectural Review.
October 15
1866 -- Horse-drawn car service begins in Charleston. (Source: Dr. Nicholas Butler, Charleston County Public Library.)
October 17
1971 -- Aviator and popular local daredevil Bevo Howard struck a tree as he pulled out of a stunt at a charity airshow in Greenville, N.C., and was killed in the resulting crash.
October 18
1858 -- Eliza(beth) C. Walling Donnely died and was buried at Bethlehem Baptist Church, former site of the St. James Goose Creek Chapel of Ease.
October 19
1997 -- David Byrne, Cracker and Cowboy Mouth were among the bands that played at 96 WAVEFEST.
October 22
1774 -- Henry Middleton was elected President of the first Continental Congress.
2006 -- The original Bowens Island burned to the ground.
October 23
1765 -- An angry mob seeking the whereabouts of the detested tax stamps issued through Parliment's Stamp Act stormed several notable residences in downtown Charleston, including that of Henry Laurens.
1786 -- Dr. Joseph Brown Ladd was mortally wounded in a duel with Ralph Isaacs in Philadelphia Alley.
October 25
1742 -- A visitor to Charles Town noted: "matters between the whites and the blacks here are such that one fears to be seen outside the house." (Source: Charleston! Charleston!)
October 26
1757 -- Charles Pinckney, the son of Col. Charles Pinckney and Frances Brewton and a future architect of the U.S. Constitution, was born.
1765 -- Leaders of a rebel mob spread rumors that Charles Town's two local stamp agents, George Saxby and Caleb Lloyd, were hiding out at Fort Johnson on James Island. Over the next two days, the mob rampaged through the streets of Charles Town, threatening to kill the agents if they did not resign their office. (Source: Charleston, Charleston! by Walter J. Fraser Jr.)
October 28
1718 -- Chief Justice Nicholas Trott convened the Court of the Vice Admiralty in a private residence to try the case of the pirates who had recently been captured along with Stede Bonnet. (Source: Charleston! Charleston!, p. 35)
1765 -- Because of the murderous threats by an angry rebel mob two days before, Charles Town's stamp agents, George Saxby and Caleb Lloyd, announced that to ensure the peace of the province (and save their lives), they would not enforce the hated Stamp Act. The Sons of Liberty poured into the streets and unfurled the blue flag of "Liberty." (Source: Charleston, Charleston! by Walter J. Fraser Jr.)
October 29
1824 -- Charles Pinckney, the son of Col. Charles Pinckney and Frances Brewton and an architect of the U.S. Constitution, died.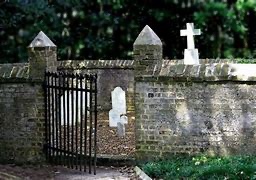 We visit the Laurens family cemetery at Mepkin Plantation (above), as well asa the grave of Susan M. Breaker (below) at the St. James Chapel of Ease site, on our Day on the Cooper River Tour.
On our Lost Charleston Tour, we share both the Patriotic and macabre stories at the site of the Henry Laurens' House.