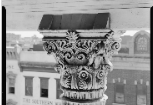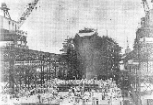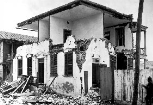 CHARLESTON HITS BOTTOM
March 1865 - 1911
1865
May 1 -- Thousands of emancipated slaves marched in a parade to the old Washington Race Course, which had served as a Union POW camp during the Civil War. There they exhumed mass graves and reburied the Union dead with respect and ceremony, then celebrated their newfound freedom with speeches and a picnic. Some credit this celebration as the nation's first Memorial Day.
1866
Jan. 30 -- The melted fragments St. Michael's bells were shipped to England to be recast, following their destruction during Sherman's burning of Columbia, where they unfortunately had been hidden for safe keeping.
Oct. 15 -- Horse-drawn car service, predecessor of the trolley system, begins in Charleston.
1870
April 24 -- Maria Louisa Porcher was born.
1886
Aug. 31 -- The largest earthquake ever recorded on the East Coast, estimated to have been a 7.2 on today's Richter Scale, struck Charleston.
1889
June 6 -- Arthur Trezevant Wayne married Maria Louisa Porcher.
1897
Dec. 13 -- The first local large-scale party featuring roasted oysters was sponsored by the Grand Lodge of Ancient Masons on Remley's Point.
1898
May 3 -- Septima Poinsette Clark was born.
1899
Dec. 29 -- The South Carolina Jockey Club disbands and donates its property, the former Washington Race Course, to the South Carolina
Library Society.
1901
Jan. 10 -- The Naval Appropriations Act provided funding for a new Navy Base just north of Charleston along the banks of the Cooper River.
Aug. 13 -- The city of Charleston sold the former Chicora Park, a few miles north of the city along the Cooper River, to the U.S. Navy to create a base and shipyard.
Dec. 1 -- The South Carolina Inter-State and West Indian Exposition opened amid much fanfare on the grounds of the forner Washington Race Course (and afterward Hampton Park.)
1902
Sept. 27 -- The Evening Post, in its coverage of the opening of the new Commercial Club, noted that the building's fourth floor was enclosed in glass that could be opened, "making a delightful resort to spend the evenings during the summer months."
1906
May 4 -- On the Belmont Race Track's opening day, nearly 40,000 people streamed through the former Washington Race Course gates at their new New York home.
July 4 -- David Doar, one of the last Lowcountry rice planters, was the keynote speaker for the Agricultural Society of St. James Santee, on the occasion of the 200th anniversary of the parish. (Source: Home in the Village, p. 13)
1910
Jan. 1 -- A reporter for the News and Courier wrote: "Traveling men usually remember the places they visit by the kinds of hotels at which they stopped. In Charleston there is one hotel that the consensus of opinion has named 'The Best.' This is the Charleston Hotel … a part of [the city's] traditions."